Feeling run down? Dietitian Laura Tilt reveals the best iron supplements for men, designed to
prevent fatigue, support muscle metabolism and promote normal immune function.
Iron is a mineral needed to make haemoglobin, a protein in red blood cells which shuttles oxygen from the lungs around the body. Consuming enough iron helps prevent fatigue, supports muscle metabolism and promotes normal immune function. If your levels are low, it could be worth trying one of the following iron supplements to give yourself a boost. 
Love strength training? Discover the best supplements for lean muscle growth
For the most part, men are not an 'at risk' group for iron deficiency. However, iron stores do tend to be lower in regular blood donors (which can deplete stores) and plant-based eaters, as iron in plant foods is less readily absorbed than iron from meat and seafood. Men need 8.7 milligrams (mg) a day, but supplements of 17mg a day or less are considered safe.  
If you feel unduly fatigued (despite adequate sleep and rest days), check your iron status with your GP.
Related content:
Best Iron Supplements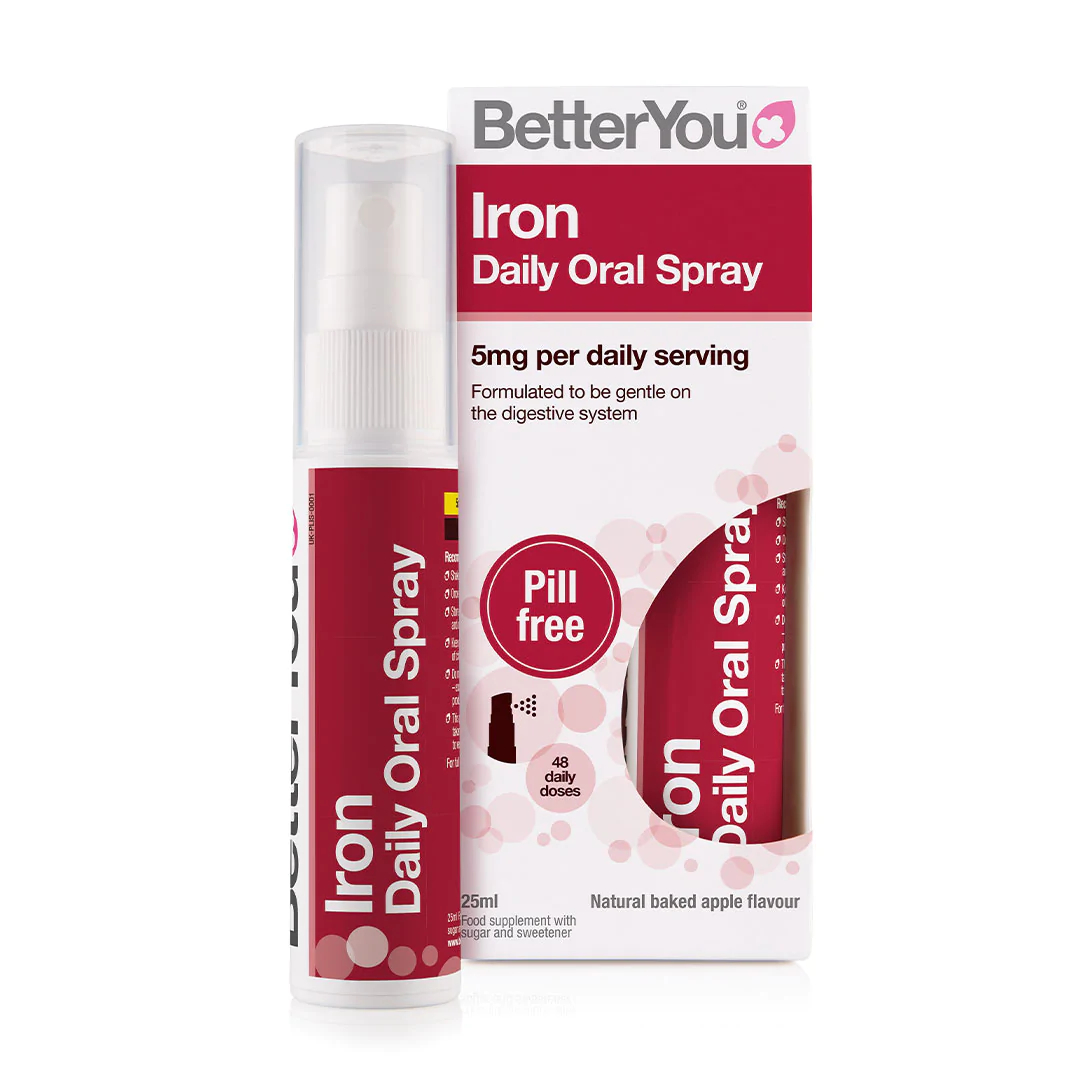 BEST IRON SUPPLEMENT:
Better You Iron Oral Spray
BUY IT NOW:
$14.95 / £6.40 for 48 doses, amazon.com
Vitamin content: 4
Ease of consumption: 5
Sustainable packaging: 4
OVERALL: 5/5 
Better You's Iron spray is a great option if you find pills hard to swallow. Because the iron is delivered directly into the bloodstream via the mouth, it negates the gut irritation that can be common with regular iron supplements. Each apple flavoured spray provides just over 15% of your daily iron needs, and you can take up to four sprays a day, providing 5mg of iron.
You don't need to take it with food or water, so stick it next to your toothbrush and you'll be unlikely to forget. Plus, the bottle is bioplastic (produced from sugarcane), so it becomes carbon negative when you recycle it. The top contender on our list of the best iron supplements.
If you're feeling fatigued, magnesium supplements could also give you a boost
BlueIron Original
BUY IT NOW:
£11.50 for 25 servings, amazon.co.uk (currently unavailable in the US)
Vitamin content: 4
Ease of consumption: 4
Sustainable packaging: 3
OVERALL: 4/5 
BlueIron contains a patented form of iron which prevents it from breaking down in the stomach, which causes many of the typical side effects of iron supplements like constipation and heartburn. Instead, it's delivered to the small intestine where it can be absorbed effectively.
Each vegan-friendly dose (2 teaspoons) contains 14mg of iron and you can take it at any time of day with food – handy if you tend to forget your vitamins first thing. Flavoured with pear juice and blueberries, it's a palatable way to supplement with iron, especially if tablets aren't your thing.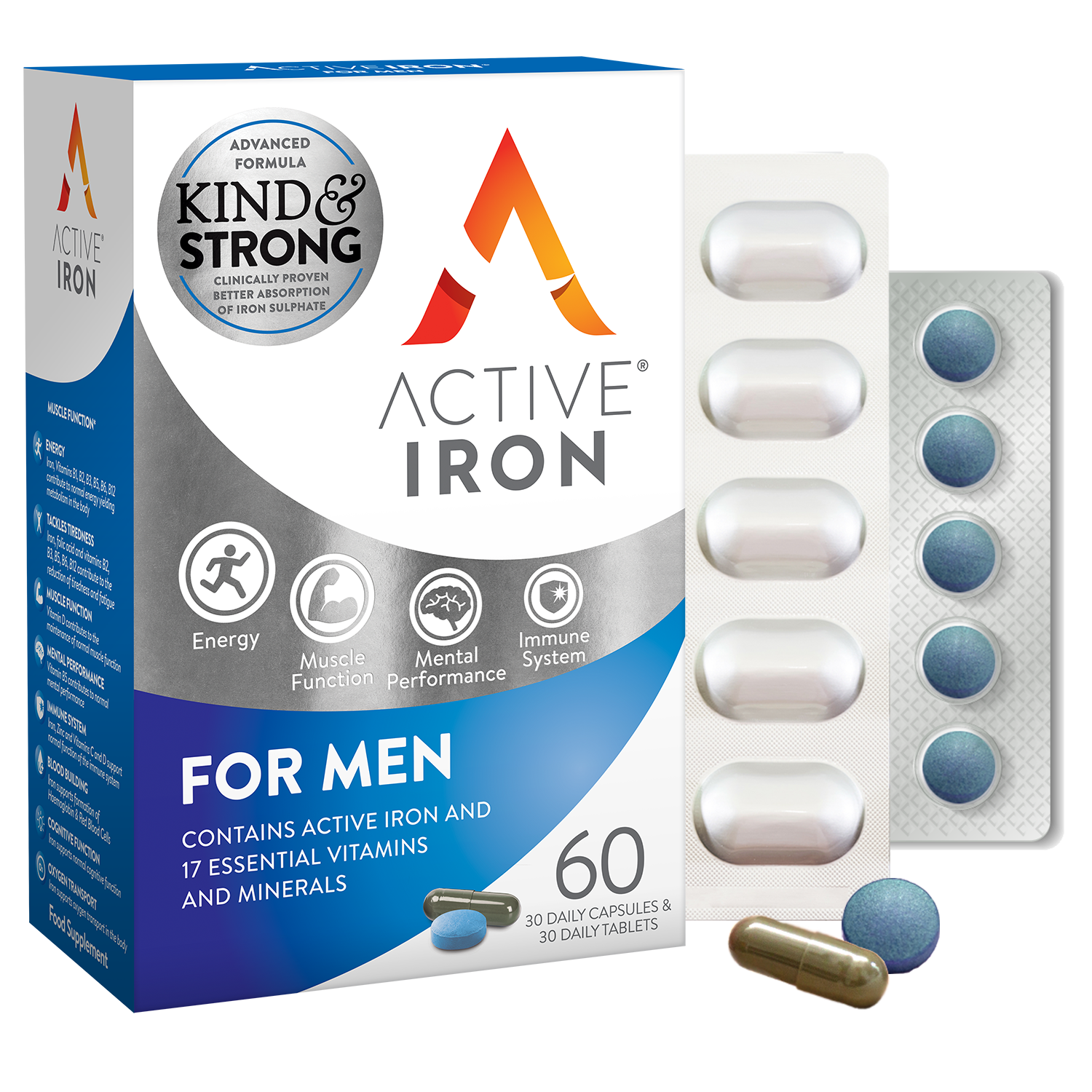 Active Iron for Men
BUY IT NOW:
£20 for 30 servings, activeiron.com (currently unavailable in the US)
Vitamin content: 4
Ease of consumption: 3
Sustainable packaging: 2
OVERALL: 3.5/5 
If you're looking for multitasking iron supplements, Active Iron is your best bet. Each dose contains 14 milligrams of iron, as well as B vitamins (which support normal energy production), plus vitamins A, C and D – making this a good option if you're a largely plant-based eater or training intensely (which can increase iron losses).
You can take these capsules on an empty stomach, thanks to a unique non-constipating formula which is gentle on the gut and offers maximum absorption – a clever concept, designed with scientists at Trinity College in Dublin. Importantly for competing athletes, Informed Sport has also accredited these iron supplements.
Check out our in-depth guide to using protein powder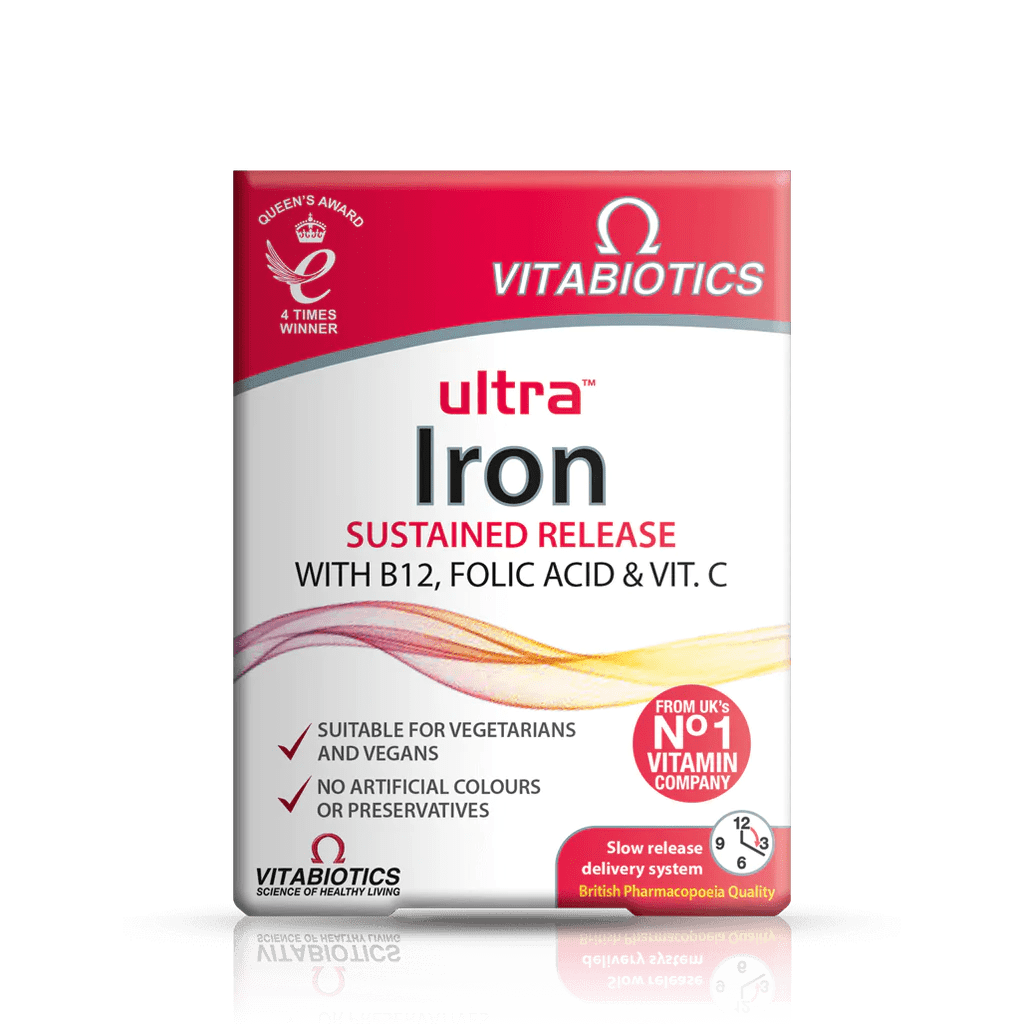 Vitabiotics Ultra Iron
BUY IT NOW:
£3.85 for 30 tablets, vitabiotics.com (international shipping available)
Vitamin content: 4
Ease of consumption: 3
Sustainable packaging: 2
OVERALL: 3.5/5
A cost-effective option for supporting iron intake, Vitabiotics Ultra Iron comes as a one-a-day iron tablet which delivers 14mg of iron together with vitamin C (to enhance absorption), plus B12, which is a necessary supplement for those following plant based diets as it's not found in plant foods.
The tablets deliver iron via slow release action, to reduce gut irritation and support the body's uptake of this important mineral. Simply swallow with a cold drink before a meal and that's job done.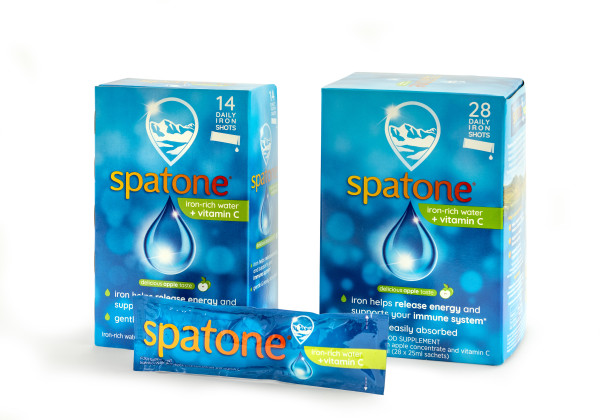 Spatone Apple with Vitamin C
BUY IT NOW:
£12 for 28 sachets, amazon.co.uk (currently unavailable in the US)
Vitamin content: 3
Ease of consumption: 3
Sustainable packaging: 1
OVERALL: 3/5
Spatone is a naturally occurring mineral water from Wales, which is a source of ferrous iron, an easily absorbed form of the mineral. Each ready-to-drink shot size sachet contains 5mg iron, flavoured with apple and combined with vitamin C (which enhances absorption and supports normal immune function).
You can swallow it straight up or add it to a cold drink. Ideally, you should take it before a meal for best results. Suitable for vegetarians and vegans, this is a lower dose option which can help maintain iron stores.
Discover the best fiber supplements
The post Best Iron Supplements appeared first on MensFitness.
Article link