For decades, golf was perceived as a game for the dad bods and the beer bellies, where your physique and your fitness counted for little, as long as you got your ball around in the fewest shots possible. Gavin Newsham explores how all that changed…
Today, golfers across the world – from the wizards of the PGA Tour to low-handicap amateurs – are realising the importance of strength and conditioning, as they seek those marginal gains that might make the difference between a good round and a great one.
And where once golf might have been seen as a game, rather than a sport, it's now a pursuit that requires high levels of fitness. 
"People may once have questioned whether golfers are athletes," says Trevor Anderson, a leading physical conditioning coach who has been teaching golfers since 2004. "But for me, the golf swing is one of the most violent, deliberate and athletic movements in all sports." 
It's hard to argue otherwise. Take a cursory look at the PGA Tour any given week and you'll see the likes of Dustin Johnson and Bryson DeChambeau crashing the ball improbable distances, with swing speeds in excess of 130mph.
For the most part, the players are lean, athletic and, physically at least, a different breed to the players of 30 or 40 years ago.
Jonathan Yarwood is an elite golf coach, voted one of the top 100 coaches in the United States. He says the professional game has really woken up to the benefits of strength and conditioning.
"There's a huge fitness and gym sub-culture on Tour today, with players travelling with their own entourage of trainers and body mobility experts," he says. "I think more pros are hitting the gym as they see the benefits to hitting it further, to preventing injury, to being able to swing it better, and so they really understand the connection between body and swing."
How Tiger changed golf
As with many matters in the game, golf's new obsession with fitness can largely be attributed to the emergence, and subsequent dominance, of Tiger Woods.
Throughout the 2000s, he decimated the professional game, winning everything there was to win and forcing every other player to work harder just to keep pace.
Keen to exploit every last ounce of an apparently God-given talent, he also applied himself to physical fitness in a way that no other golfer had really done before.
In 2007, he even trained with the Navy SEALS. He was so fit that he considered joining them on a more permanent basis, believing they would make a special age exemption for him. 
"When Tiger came on the scene, he made it very clear that he lifted weights and that he trained a lot, yet you had all these veteran players warning him about what it might do to his golf game," says Anderson.
"Tiger just said, 'You do it your way and I'll do it mine and we'll see what happens'. One hundred titles later and it's easy to see who won that argument."
Rory McIlroy is another example: a man who made the journey from prodigiously talented and slightly chubby youngster to golf superstar who now seems to spend as much time in the gym as he does on the range. His reasoning was that his posture needed addressing and the best way to do that was by hitting the weights. 
Balancing act
The danger, however, is that while bulking up and adding muscle can add the explosive power needed to drive the ball further, it can be at the expense of the finer, more delicate aspects of the game, like putting and chipping.
Sir Nick Faldo is a case in point. During his dominant period in the 1980s and 1990s, Faldo was lifting too many weights and lost his touch around the greens, prompting a rethink on his fitness regime. 
"He was worried that too much work in the gym might ruin his flexibility and his touch," recalls Trevor Anderson. "So his answer was to ride a bike everywhere instead, which certainly worked for him and his fitness levels."
Jonathan Yarwood believes there's a difficult balance to be struck between gaining muscle, and therefore power, and maintaining that deftness you need in the key areas of the game, on and around the putting green.
"Golf is a hard game to train for as there are multiple demands on your body," he explains. "It's not just pure bulk and muscle, but mobility and dexterity without losing the touch you need, too. The answer is a well-structured road map, which sees a blend of speed, mobility, strength and dexterity training coupled with a sensible diet."
It can be a similar story for those bigger players who lose a large amount of weight, but then seem to lose their form with it: Colin Montgomerie, Darren Clarke, Mark Calcavecchia – they were never quite as good as when they were carrying a little extra weight.
And what of David Duval? The American reached world number one in March 1999 and became only the third player in history to shoot a round of 59 when he won the 1999 Bob Hope Chrysler Classic in La Quinta, California. And while he won his one and only major championship at the 2001 Open at Royal Lytham and St Anne's, his game went south soon after, when he went on a health kick, losing 40lbs.
It's not always the case. Some players are just born supple. If you watched golf's PGA Championship from Southern Hills in Tulsa, Oklahoma, recently, for example, you might have noticed the 1991 champion, John Daly, teeing it up, his giant Santa beard flowing freely and his burgeoning beer belly breaking over his belt.
On the face of it, Daly looks the antithesis of what a professional sportsman should be, but he's living proof that golf isn't all about BMI or bench-pressing. Indeed, Anderson often cites Daly as an example of how you don't have to be ripped to execute a good golf swing:
"If you take a still photo of him at the top of his backswing, you'll see just how nimble and supple he is. Don't be fooled by the cigarette in his mouth and his appearance. The movement he has creates so much power. He was hitting the ball 400 yards long before anyone else was, with inferior equipment, too. In that sense, he was, and is, very athletic."
Golfing injuries
While many players continue to work on their strength, few have taken it to the extremes that Bryson DeChambeau has. During the Covid lockdowns, the Californian packed on 40lbs of muscle and returned to action looking like an action hero.
While the physical difference was striking, so too was his golf, as he suddenly started outdriving everyone else on the PGA Tour by huge margins. 
His transformation reaped immediate dividends – he took his first major at the 2020 US Open – but DeChambeau's since been hampered by injury and, as Jonathan Yarwood explains, it's not exactly surprising.
"High-level golfers often have an obsessively driven personality, that can see them overdoing things and taking them to the extremes," he says, "but there is a cost for that and it's usually injury." 
Lately, DeChambeau has been sidelined by a lingering wrist injury and problems with his hip. They're injuries that are commonplace among golfers, both professional and amateur.
Regular players can also expect to suffer from other common ailments, such as knee pain, caused by the repetitive strain of turning during the swing, and excess stress on the muscles, tendons and joints in the shoulders.
All of which makes warm-ups essential. "You have to stretch," adds Anderson. "All too often you see golfers just rocking up on the first tee, grabbing a driver and swinging." 
Amateur golfers also have to accept that they're not going to swing the golf club as dynamically as they did when they were younger. Accepting that fact is the first step in not only making you a better golfer, but also preventing some of the more common injuries associated with over-swinging. 
As we age, our training has to change with our bodies. The 20-year-old you is different to the 40-year-old, and you have to reconsider the way you approach your fitness, movement and strength.
The most successful golfers are the ones who realise that and adjust their games accordingly.
Strength training for golf
Use the following TRX exercises to drive the ball further
As a TRX Master Trainer and golf performance expert, Trevor Anderson advises using TRX to improve core stability and strength, both of which are vital for a smooth and effective golf swing.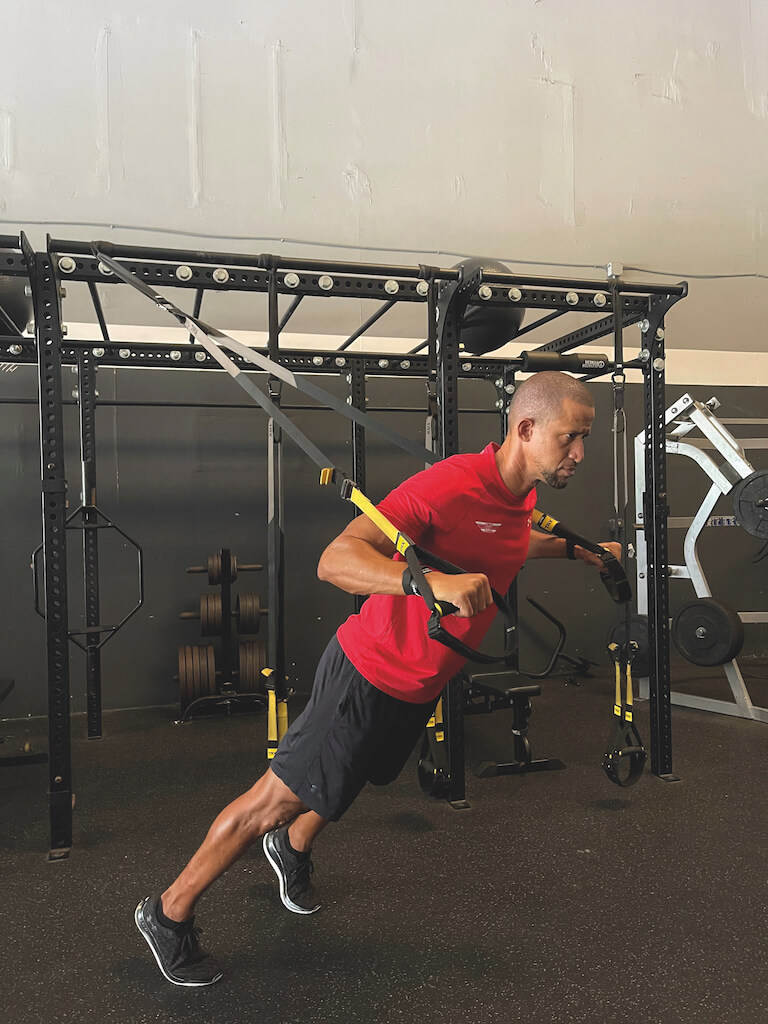 1. TRX CHEST PRESS
Reps: 10
Sets: 3-4
Coach's comment: This move is great for movement preparation and creating a balanced posture. It opens up the chest, activates the core and promotes the shoulder mobility necessary to shallow the club on the downswing.
Stand facing away from the anchor.
Grip the handles and extend your arms out in front at shoulder height, while keeping the weight on the balls of your feet.
Lower your chest towards the ground and bend your elbows to 90 degrees.
Press back up, maintaining alignment.
Make the move harder by moving your feet closer to the anchor, so you're in a more horizontal position.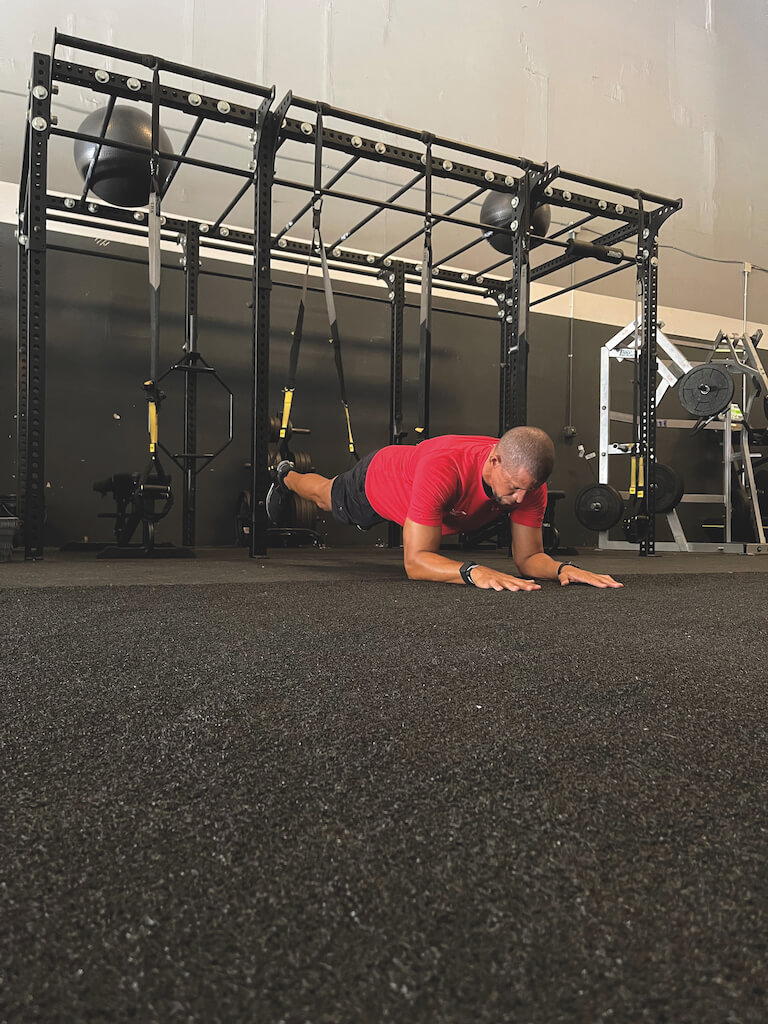 2. TRX CRUNCH
Reps: 15
Sets: 3-4
Coach's comment: The TRX Crunch builds both core strength and endurance. It reinforces a neutral pelvis through the plank position, for the proper pelvic tilt movement necessary for an efficient golf swing.
Get into a press-up position.
Place both feet in the handles.
Lift your knees off the ground, coming into a plank position with your hands directly underneath your shoulders.
Your back should be flat and your core should be engaged.
Bring your knees into your chest, then return to your starting position.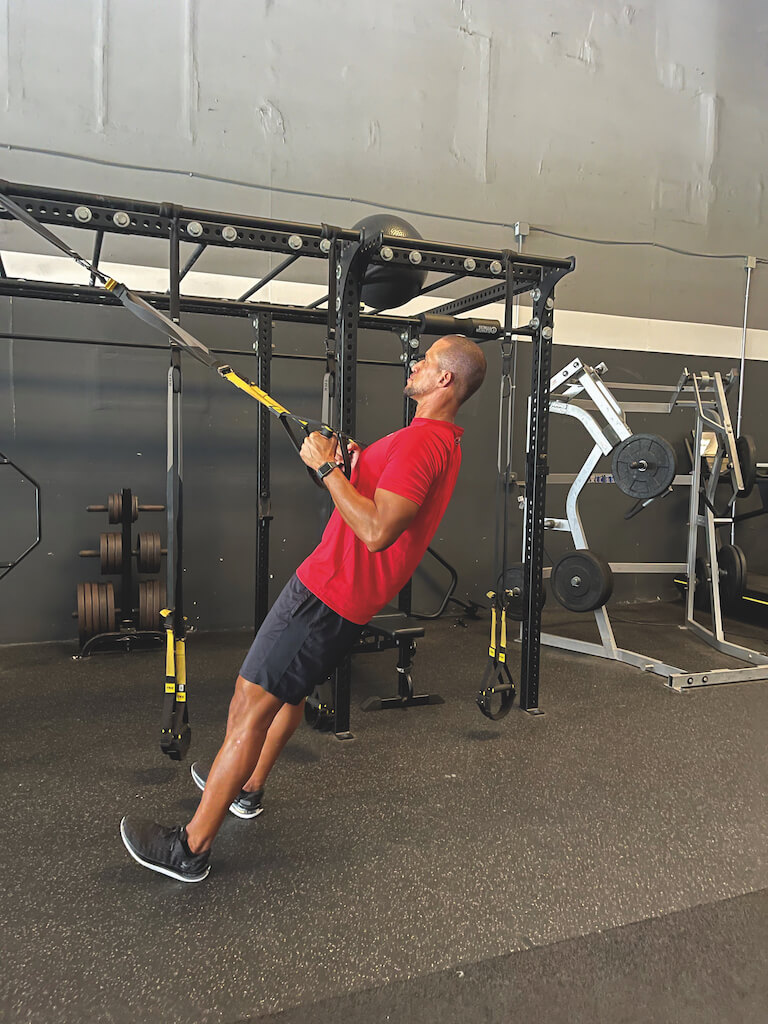 3. TRX ROW
Reps: 10
Sets: 3-4
Coach's comment: Effective for activating the musculature of the upper back, for efficient movement. It reinforces good posture and balance, from back to front in the golf swing, while helping to avoid the 'C' swing fault that prevents good rotation.
Stand facing the anchor.
Grab the handles and lean back with your arms straight, palms facing down.
Squeeze your shoulder blades together, keeping your elbows pulled into your sides and move your body up towards the anchor point.
Return with control, maintaining body alignment.
Words: Gavin Newsham
RELATED CONTENT:
The post Importance Of Strength For Golf & How To Improve Your Drive appeared first on MensFitness.